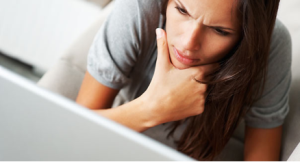 The Rules of Thumb blog from MoneyThumb understands that the most popular accounting system accountants use is QuickBooks. So today we are going to discuss the 10 most common problems accountants have with QuickBooks and solutions for each problem:
Preferences Aren't Set Up Correctly--One of the first things you should do when you begin using QuickBooks for your accounting purposes is set up your email template preference, reporting options, charges for late payments, and add your default bank account for paying bills and receiving payments. If this is done first thing, you won't have issues down the line with these preferences.
Misusing the Undeposited Funds Account--When receiving payments from customers and your cash account isn't increasing on your financial reports, you are most likely using undeposited funds incorrectly. Once payment is received from a client, open up the deposit module, batch checks together that you're taking to the bank, and record them as one single deposit in the software.
You are Not Using the Purchase Order System--Don't fret, this is a common error on the part of accountants and/or bookkeepers getting started in QuickBooks. For optimum use of the software, you should create a purchase order every time you buy the product from a vendor, then when you receive the product always check it against the PO. This will save you a lot of time and headaches.
Reconciling Your Bank Account--This issue is not the same as entering every transaction into QuickBooks. Rather, it's about monitoring the transactions to make sure they're in the right place for the right amounts. To accomplish this, open the reconciliation module monthly and go through each transaction. Make sure each transaction was posted to the right account and has cleared the bank.
Your Items List is Not Organized and/or Streamlined--QuickBooks defines your products as 'items.' Over time it is easy to let your items list become overwhelming and outdated. To clean up your items list, deactivate items you no longer handle or sell, make sure each item is correctly labeled, check your stock and make sure the numbers are correct, update the cost of each item.
Incorrect Report Settings--Do you want Cash Reports or Accrual Reports or Both? Make sure your report settings reflect the correct preference. Cash Reports: show you the cash in/outflow of transactions within your company. Accrual Reports: show you the overall performance of your company.
Unknowingly Deleting Transactions--QuickBooks transactions are linked together, so if you change one transaction you could be deleting other transactions in error that is attached to it. Check to make sure this is not happening.
Runs Slow in Multi-User Mode--This is a very common problem for bigger businesses. To solve this issue you will need to use a larger amount of RAM and hard disk to handle the heavier load of multiple users.
Lost Administrative Password--This is one of the most occurring issues. If you lost your admin password it is recommended to reinstall QuickBooks software on your system. There are many software programs available in the market which can break the admin password but simultaneously there also is a need to protect your data from such threats. So, the safer path is to reinstall.
Other Issues--If you find you have an issue that we have not covered above, you can visit the INTUIT, QUICKBOOKS ONLINE COMMUNITY and hopefully get your question answered there.
The Rules of Thumb blog from MoneyThumb sincerely hopes this post has helped you resolve any QuickBooks issues you are having as an accountant. And remember, MoneyThumb has the best PDF financial file converters on the market to help you convert your accounting clients financial information quickly and easily.