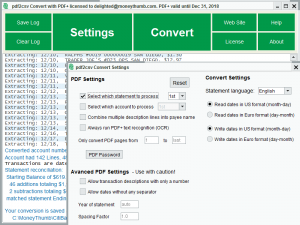 If you are a self-employed professional, you need a way to keep track of your finances that won't take up a large amount of time or money. Fortunately, MoneyThumb software provides a number of accounting tools for businesses of all sizes, including individuals and contractors. These are our five favorites.
Track your historical financial data
When things get busy, logging every receipt, invoice, and bill becomes a low priority.  Once you find the time to enter all of this data, the piles of paperwork and hundreds of unopened files that have accumulated and now need to be input can seem like an insurmountable task. With MoneyThumb software, however, many of these files, even very old files, can automatically be converted into a format that will make this task easier.
Convert from QuickBooks to Quicken
As your business grows and goes through changes, it might be more advantageous to convert your accounting software from QuickBooks to Quicken. Rather than investing a ton of time and money into this enterprise, MoneyThumb will allow you to convert your files quickly and easily. You won't have to hire an outside consultant or specialist, and you can start using your new program with all of your old data safely secured and accessible within minutes, instead of months.
Communicate directly with your bank
If you find yourself frequently converting your bank's computerized files into a format that your accounting program will accept, then you need to invest in MoneyThumb. You'll reduce the possibility of making mistakes and the amount of time that you spend on this repetitious task by automating it.  MoneyThumb can communicate with dozens of banks and investment firms, so you don't have to worry about its compatibility with your financial institution.
Track your investments
MoneyThumb's Portfolio Tracker Pro is one of the most advanced investment tracking software programs on the market today. This software imports data from your existing accounting programs, banks, and investment firms in order to chart every investment account you own on a single page.  You can compare and monitor all of your investments without switching between programs. With that data readily available, you will easily be able to identify which accounts are earning money, and which ones need more attention.
Chart your growth
In addition to combining and tracking all of your accounts, MoneyThumb's Portfolio Tracker Pro is also able to generate graphs and charts of your investments. You can view the historic data of multiple accounts or compare different accounts to each other. You can also generate instant breakdowns of your total portfolio, enabling you to identify weak areas and strengths in a matter of seconds.
These are just five features of MoneyThumb's Business Accounting Software that self-employed professionals will find useful. There's so much more this software can do. All of its functions have been designed to save you time, hassle, and money, making it far easier to keep your focus on running your business efficiently.