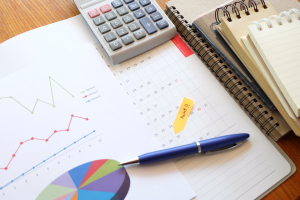 First of all, welcome to the Rule of Thumb blog from MoneyThumb. If you have come here looking for advice on a career in either accounting or financial planning, you have come to the right place. Hopefully the following blog post will help you understand the difference between an accountant's job and the job of a financial planner so you chose the career path that is right for you.
Accountant or Financial Planner?
Even though both careers, accountant and financial planner, involve a lot of math, the jobs are actually quite different. An accountant records, summarizes, analyzes and reports a business's financial transactions. Public accountants work for third-party firms and audit clients' financial records, a legal requirement for any publicly traded company. Internal accountants work for private companies and perform duties such as internal auditing, inventory accounting and financial forecasting. Sales is not a part of the career, other than the process of selling yourself and your services to potential clients.
On the other hand, a financial planner specializes in areas like tax planning, portfolio management and retirement planning. Financial planners often hold specific licenses and designations, the most common being that of a Certified Financial Planner (CFP). A CFP must pass rigorous exams in multiple areas of financial planning. While a financial planner must be good with numbers and possess a keen understanding of how the markets work, it is important to have strong sales and networking skills.
REQUIRED EDUCATION
Most accountants and financial planners have at least a bachelor's degree. For accountants, the only time a licensing board requires you to complete a certain level of education is when you sit for the Certified Public Accountant (CPA) exam. Becoming a CPA requires 150 hours of post-secondary education, which is more than a bachelor's degree but does not necessarily entail completing a master's degree. Otherwise, individual firms doing the hiring, not state or federal boards, set education requirements for accountants.
You can become a financial planner without a bachelor's degree, as long as you pass the securities exams for your specialties. Gaining the CFP designation requires completion of a bachelor's degree from an accredited school. This designation is almost a necessity to be taken seriously in the field.
NECESSARY SKILLS
As an accountant, you have to be focused, detail-oriented, great with numbers and driven. For public accountants, the work hours are long for the first few years of your career. Accountants refer to the period from January until April as the busy season, when 60-hour weeks and beyond become the norm. The hours lessen as you work your way up the ranks, but this is unquestionably a field where rookies must pay their dues.
Financial planners are first and foremost salespeople. Networking and selling yourself is an around-the-clock job. Along with sales skills, a financial planner must love the markets to succeed. If you do not enjoy waking up and immediately turning on a finance channel or accessing a mobile app that tracks the markets, this career might not be for you.
PAY INFORMATION
Pay structure marks a huge difference between accounting and financial planning. Accountants receive a straight salary; bonuses, when applicable, are usually determined by the performance of the firm as a whole. Financial planners, by contrast, receive either straight commission, or commissions and bonuses on top of a small base. It is very much a pay-for-performance career. Build a large client base, and you can become lavishly wealthy; struggle to generate business, and your financial planning career will likely be short-lived.
IN CONCLUSION: Accountant or Financial Planner?
The choice between accounting and financial planning depends more on your personality than anything else. Both careers require mathematical proficiency and a great work ethic. Beyond that, if you hate sales, financial planning is not the career for you. Similarly, if you are not keen on crunching numbers and prefer big-picture analysis, accounting is likely not your dream career.