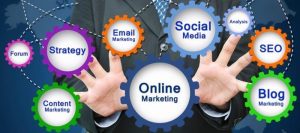 No matter how small or large your accounting business is, marketing online to find new clients and to keep in touch on social media with current clients has pretty much become a necessity. Consider it a perk of internet access and a way to help build your reputation as a trusted firm and put you on the map for future growth.
The Rules of Thumb blog wants to help you become successful at marketing your accounting business online. Below are tips to help you do that:
1. Optimize and Update Your Website 
According to a study performed by Digital Synopsis, "Lack of information, 'busy' interfaces, and small fonts are the biggest hindrances" to users finding information they need on a website."
The brutal truth is the average online user will spend only one minute trying out a website before giving up if there is not easy navigation, so it is imperative that you have things in great working order.
A good website will achieve successful conversion if it is modern, simple, aesthetically pleasing, and easy to navigate with user friendliness in mind. As competition continues to grow in every sector, users more and more are becoming intolerant of websites that have bad design and usability.
If you are just setting up your accounting practice and don't have a website, it is highly recommended that you hire a professional to build it. Web designers will work with you to understand what your business is about, who your audience is, what services you offer, etc. They can design a website that has proper keywords, landing pages, call-to-actions, and search engine optimization practices that will help your firm become more visible and user friendly. This won't only capture your audience's attention, but also encourage them to easily perform tasks you want them to while on your site.
2. Use Social Media 
Social media has taken the world by storm, serving as an elaborate way for brands, businesses, and organizations to connect, influence, and get in front of their audience. So much so that "social network ad spending will reach $35.95 billion, representing 16% of all digital ad spending globally" this year alone.
However, many accounting firms are not leveraging social media effectively. They either do not post frequently, don't advertise, or don't have any social media policies in place.
Social media when done right will make your accounting firm more personable, resourceful, and valuable when you are giving your audience content that lets them learn more about your company culture and also offers solutions to their problems. In doing so, your firm will benefit from increased brand awareness and be building community through social engagement.
3. Create Valuable Content 
One of the best ways to attract new and keep old clients is to continuously provide them with content that is useful and valuable to them. You could follow the bigger accounting firms example by creating a weekly or monthly newsletter, for example, or blog about things that interest accountants and others in the financial sector.
A few other valuable ideas for using content to market your accounting firm is with e-Books, white papers, info-graphics, quizzes, and videos. By packaging your content in a variety of ways, you can appeal to a larger percentage of your audience who digest information differently.
4. Amplify Your Content 
In order to have a wider reach and to get in front of your targeted audience in an even bigger way, an effective strategy that many marketers turn to is content amplification. If you're producing great content that addresses a lot of your audience's pain points and they're responding to it positively, you'll want to carry that momentum by getting your content in front of as many of your targeted audiences as possible.
In the simplest terms, content amplification is about forming relationships and partnerships with different people, businesses, and organizations that are widely received in the industry. The formula is simple. The more you get them to push your content, the more it is seen by your audience; the more it is seen by your audience, the more likely you are to become recognized as a thought leader in the industry, which gives you greater potential for client acquisition.
5. Network 
Lastly, nothing beats the age old technique of simple networking. Establish rapport and connecting with people whether in person or online is always a surefire way to market your firm. Attend conferences, get referrals, and make your staff brand ambassadors to ensure that your firm is always represented in a professional and helpful way.