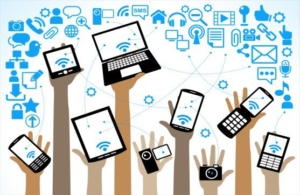 Like many blogs in our niche--accounting, bookkeeping, personal finance, investing, taxes, retirement, and PDF conversion software--the Rules of Thumb blog from MoneyThumb strives to provide the most stellar content to our readers. Bloggers always hear that 'content is king' and that is true, to a point. There is more to having a successful blog than just writing great content. Blogs need readers, and even though we have many loyal subscribers and blog readers, improving that aspect of our site is foremost on our minds here at the Rules of Thumb blog, especially with the start of a brand new year.
There is SO much information available online to guide you on the subject of increasing readership and traffic to your blog. To save you time we have done the heavy lifting, and after much research and trial and error have devised a plan for our blog that you can follow for your finance-related blog to gained new readers and increase traffic.
Tips for Building Readership and Traffic to Your Finance-Related Blog
The first step in our plan to increase our readership at our finance-related blog is to reach out to fellow bloggers in our niche. We have compiled a list of what we feel are the best blogs in the financial sector and we're sending them direct emails, offering a free temporary licence to one of our premier products in hopes of getting an unbiased review on their blog. For blogs on our list that might not need the advanced PDF converter software, we have several other products that we intend to offer for free to these bloggers for an unbiased review.
Our second step for increasing readership and traffic to the Rules of Thumb blog and a step we advice you take for your finance-related blog comes from a great post we found at TwelveSkip.com titled 17 Friendly Bloggers Share How to Form a Bond with Fellow Bloggers. Below is an infographic included with that article that sums it up quite nicely. The article is very in-depth and full of great advice for forming relationships with bloggers in your niche, such as; shadowing popular blogs in your niche, where to find these fellow niche bloggers, and sharing the posts you love from these niche bloggers on your social media while joining in the conversation on their social media pages.
Our last step in the initial plan we have for building our readership and traffic to our blog is to be a premier provider of help and information to other blogs and their readers. MoneyThumb is very well-educated in all aspects of personal finance, bookkeeping, accounting, advice for small business and CPAs, and help with tax questions that we can easily see becoming a go-to source for answers to questions in all of these areas, both here at our blog and on our social media pages.
As the year progresses we are sure that we will continue to add to our plan to increase readership and traffic, but this is a great start. We are excited about the new year and the suspected results of our efforts. We hope the above tips also help you to make your finance-related blog one of the best out there in 2017.