Rule of Thumb:
Choose Your Tools Wisely
If you had to import years of financial transactions into one money management program, what tools would you use? A generally simple process becomes complex when historical transaction statements (generally 6 months and older, but sometimes just 90 days and older) are only offered as PDF downloads.
Anyone that has tried to utilize these PDFs knows that they are great for viewing data - but not so great at doing anything with it. That's where MoneyThumb's line of financial file converters can help! Our software family offers a variety of options to convert PDF statements into Quicken, QuickBooks, spreadsheets, and other financial file formats.
MoneyThumb's line of PDF converters make use of advanced algorithms to compare your .pdf file against those supplied by hundreds of financial institutions. This ensures that the .pdf file conversion process is smooth and easy.
See More Banks!
MoneyThumb's PDF Converters work with historical transactions from such leading banks and financial institutions as: Wells Fargo • Bank of America • Chase Bank • CitiBank • US Bank • Barclays • Royal Bank of Canada • American Express • Discover • Charles Schwab • Fidelity • Ameritrade • PayPal • Many Others
See More Banks!
All PDF Converters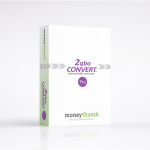 Convert PDFs into Quicken
Quicken is a leader in the field of personal finance management, so which is why we offer so many options for converting files into various Quicken formats. We even have converters to switch files from one Quicken format to another! There are two options for converting PDFs into Quicken format: pdf2qfx, and pdf2qif. Our pdf2qfx converter works with these versions of Quicken:
Quicken 2015 for Mac
Quicken (Deluxe, Premier, Home & Business, Rental Property Manager) 2015 for Windows
Starter Edition 2014
Deluxe 2014
Premier 2014
Home & Business 2014
Rental Property Manager 2014
Starter Edition 2013
Deluxe 2013
Premier 2013
Home & Business 2013
Rental Property Manager 2013
Starter Edition 2012
Deluxe 2012
Premier 2012
Home & Business 2012
Rental Property Manager 2012
Our pdf2qif converter works with these versions of Quicken:
Quicken Personal
Quicken Personal Plus
Quicken 2005 and all older versions
QIF versus QFX?
The choice between the two file formats depends on what version of Quicken you're using, and what features you need. QFX is easier to work with, but does not support categories or splits. If categories or splits are needed, the best option is using QIF to convert a file to Quicken. Otherwise go with QFX. Some people prefer to stick with their original form of Quicken, and therefore have continued to use .qif file types. If you wish to work with the latest versions of Quicken, the PDF to QFX converter is a better choice.
Convert PDFs into QuickBooks
QuickBooks has long been known as a small business essential. Personal accounting becomes even more complex when incorporating your small business, freelance, or company transactions into the program. Having everything in one place allows for a unified and complete picture of your finances, so it's a step that shouldn't be skipped.
Our pdf2qbo converters work with these versions of QuickBooks:
QuickBooks Online Simple Start
QuickBooks Online Essentials
QuickBooks Online Plus
QuickBooks Pro 2015
QuickBooks Premier 2015
QuickBooks Enterprise 2015
QuickBooks Pro 2014
QuickBooks Premier 2014
QuickBooks Enterprise 2014
QuickBooks Pro 2013
QuickBooks Premier 2013
QuickBooks Enterprise 2013
QuickBooks Pro 2012
QuickBooks Premier 2012
QuickBooks Enterprise 2012
QuickBooks Pro 2011
QuickBooks Premier 2011
QuickBooks Enterprise 2011
QuickBooks Pro 2010
QuickBooks Premier 2010
QuickBooks Enterprise 2010
QuickBooks Pro 2009
QuickBooks Premier 2009
QuickBooks Enterprise 2009
QuickBooks Pro 2008
QuickBooks Premier 2008
QuickBooks Enterprise 2008
QuickBooks Pro 2007
QuickBooks Premier 2007
QuickBooks Enterprise 2007
QuickBooks Pro 2006
QuickBooks Premier 2006
QuickBooks Enterprise 2006
QuickBooks Simple Start Desktop 2005
QuickBooks Pro 2005
QuickBooks Premier 2005
QuickBooks Enterprise 2005
QuickBooks Simple Start Desktop 2004
QuickBooks Pro 2004
QuickBooks Premier 2004
pdf2qbo Convert versus 2qbo Pro Convert?
If you need a simple way to change a PDF into QuickBooks format, our pdf2qbo Convert is the best option. It's straightforward, easy to use, and does exactly what it says. If you have multiple file types that you would like to convert to QuickBooks format, or need advanced PDF conversion options, you should select 2qbo Pro Convert. This all in one tool allows for the conversion of PDFs into QuickBooks, and also includes functions to:
Convert .csv files to .qbo format
Convert .pdf files to .csv format
Convert .xls files to .qbo format
Beyond that, this pro converter also offers the following advanced PDF options:
Handling of non-standard text
Handling of multi-lingual text
Removal of extra text from payee names
Clean import into QuickBooks
Convert PDFs into Spreadsheet Format
Those that use spreadsheets for personal finance management can benefit from pdf2csv Convert. This tool is also valuable if your money management program only accepts the upload of .csv files. Easily transform PDFs into functional, editable spreadsheet files with this converter software. It doesn't matter if you've made your own spreadsheet, or if you've created one using an Excel template, or if you just prefer the capabilities of using spreadsheet file formats. This tool helps with it all.
Convert PDFs into OFX
There are a handful of financial software options that work in .ofx (Open Financial Exchange) format. As you may have guessed, we also have converters that take your PDF and turn them into OFX files.
Personal software programs like GnuCash, AceMoney, and MoneyDance do not natively import PDFs. If you need to get historical PDF statements into iBank, Microsoft Money Sunset, or similar programs, you will first need to switch from PDF to OFX format. OFX is used by many personal finance platforms, including:
Tools of the Trade
Whenever Prince Charming faces off against a dragon, he knows to bring his shield and sword.  When Cinderella needed a dress for the ball, she called upon the mice and birds to help. When Rapunzel needed to escape her tower, she grew out her hair until it offered a way out.  Choosing the right tools just makes sense, and we're here to help with the resources you need to accomplish any financial feat.