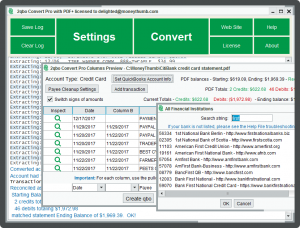 Seldom do we toot our own horn, but today is an exception. We have received so much positive feedback from clients who use our financial file converters for their home or business accounting that the Rules of Thumb blog from MoneyThumb feels it is time to show off our stuff.
If you are not familiar with our products, let us explain how they work. Our family of PDF conversion tools can import historical PDF bank and credit card statements into small business accounting software with just a few clicks – whether QuickBooks, Xero, FreshBooks, GoDaddy, MYOB or virtually any other desktop or cloud-based small business accounting platform.  The software uses advanced algorithms developed from the PDF statements generated by hundreds of different banks to convert a user's supplied PDF for import into the small business accounting application.  No more manual key-in, no more copy and paste and no more trying to make a generic PDF converter do the job that only a specialized financial file PDF converter can do.
MoneyThumb offers the leading line of PDF converters specialized for small business financial transactions – helping to remove obstacles faced by individuals and small businesses moving to or maintaining electronic records.  Our family of PDF conversion tools for small business includes 2qbo Convert Pro (aimed at QuickBooks Pro Advisors and transaction-heavy small businesses) as well as an array of free-standing PDF financial file converters (like pdf2qfx Convert and pdf2ofx Convert) that import into QuickBooks, Quicken, and cloud-based small-business accounting platforms.
Import Bank and Credit Card Statements With Just a Few Clicks
MoneyThumb not only offers a suite of financial file converters for accountants and small businesses, we have products designed specifically for individuals who want an easier way to keep up with their financial information. We also have financial file converters especially created for lenders. Take a look at our suite of financial file converters and decide which one is best for your use.
Key Product Features