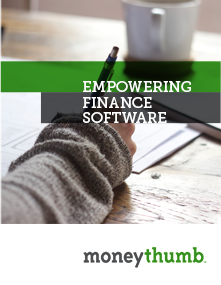 When it comes to accounting software of any kind, even the most seasoned accountant or CPA can feel trepidation at trying out a new product, or finding just the right product for their accounting needs. So you can imagine how a regular person who just need personal accounting software and/or a financial file converter must feel when deciding on the right product perfect for their needs.
Our website, MoneyThumb.com, takes all the guesswork out of finding just the right financial file converter for every kind of accounting, whether you are keeping your own books or you are a professional accountant. The first thing you will see when you arrive at MoneyThumb.com is a tool that will help you decide what product you need within seconds. Just choose the right option for 1. Pick your starting file. 2. Pick your destination software. That's it! Then click the button that says FIND IT! and MoneyThumb proprietary system will tell you exactly what financial file converter you need. Very simple indeed.
However, that is not all we offer on our website. MoneyThumb.com offers a free trial of any of our products. We also have a newsletter filled with informative information on accounting, finance, new products, and discounts available only to our subscribers. In addition, when you register your email address with us, you will instantly receive our free e-Book, 10 HINTS - HOW TO GET THE BEST RESULTS WHEN SCANNING AND CONVERTING PDF BANK STATEMENTS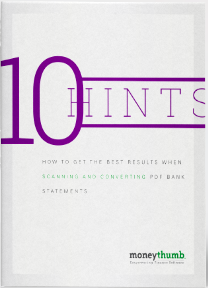 There is a comprehensive learning center where you can find the answer to any question you have about all of our great products. MoneyThumb is social too! We have an active Facebook page, busy Twitter account, and network with other accounting related sites and people at LinkedIn.
The staff at MoneyThumb really enjoys networking with you on all our social sites. And we strive to offer you the most comprehensive, up-to-date accounting and finance information here on our Rules of Thumb blog. We also hope, by explaining how to use how website tools so easy that you experience is always a streamlined and pleasant one.
MoneyThumb saves you time with financial file converters that automate your small business and personal finance file conversion tasks. Convert scanned and image based .pdf bank statements straight into QuickBooks with pro products like 2qbo Convert Pro+ and pdf2qbo Convert+, or choose among our wide range of other converters designed especially for the small business or personal accounting application that you use.