It is Friday, and the beginning of a new month, so the Rules of Thumb blog from MoneyThumb decided this is a great day for a little fun. In that vein, we want to share some of the best tips for success for investment bankers. But this blog post won't be dry or humorless. In fact, the advice we offer investment bankers today is taken straight out of Hollywood.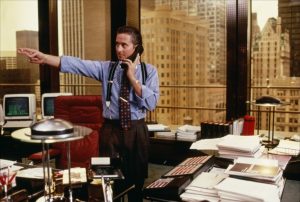 One of the most interesting characters in the history of movies is Gordon Gekko, the mean but brilliant and ruthless investment banker from the movie Wall Street. It is funny that even though the movie portrayed investment bankers in a negative light, Wall Street investment bankers and stockbrokers loved the movie and many since have been modeling their career on the unscrupulous Gordon Gekko.
Why is that so? Can you learn valuable investment banking career lessons from the man who famously proclaimed 'greed is good'? We think so. Below the Rules of Thumb blog has listed 4 of the top pieces of advice for success as an investment banker that came from the movie Wall Street and it's protagonist, Gordon Gekko.
#1 You have to start somewhere
"You see that building? I bought that building ten years ago. My first real estate deal. Sold it two years later, made an $800,000 profit. It was better than sex. At the time I thought that was all the money in the world. Now it's a day's pay. It's all about bucks, kid. The rest is conversation."
#2 Every battle is won before it is ever fought
"I don't throw darts at a board. I bet on sure things. Read Sun-tzu, The Art of War. Every battle is won before it is ever fought."
#3 Sheep can't beat the S&P 500
"Ever wonder why fund managers can't beat the S&P 500? 'Cause they're sheep, and sheep get slaughtered."
#4 Want that internship? Try calling 59 days in a row!
"This is the kid, calls me 59 days in a row, wants to be a player. There ought to be a picture of you in the dictionary under persistence, kid."
Of course, we at MoneyThumb realize Wall Street was just a movie and Gordon Gekko a fictional character. However, the four tips listed below are fun to consider and do have a lot of truth in them, even if it IS very blunt truth.
Let's have even more fun on this Friday, the first day of June 2018. If you are an investment banker, why not share in the comments below your best tips for success for aspiring investment bankers and/or financial analyst? We would love to hear from you. Who knows? Maybe your tip will be used in a future Rules of Thumb blog post for MoneyThumb! (Which by the way, has the very best, top of the line PDF financial file converters available anywhere for use by investment bankers and financial analyst!)