If you are a small business owner, this post at The Rules of Thumb blog from MoneyThumb will help you get started off on the right foot in 2019 when it comes to deciding on the best accounting tools and software to help your business.
The blog at StoreYa has collected a very definitive list of 44 accounting tools and software for small business. We are sharing the first 10 of those tools and software listed by StoreYa below:
All-In-One Inventory Management, Business Management, and Financial Accounting Tools and Software
1. Brightpearl
Price: Customizable plans starting from around $375 per month for 3 users
Best for Small to medium omnichannel and eCommerce businesses and retailers
Platform: Cloud-based
Integrates with: Shopify, Magento, BigCommerce, eBay, Amazon, Shipstation, UPS and more
Brightpearl's eCommerce management system is a full-service platform that integrates accounting with back-office inventory and warehouse management. It integrates with your shipping systems, and like other platforms such as FreshBooks, it is mobile-optimized and offers APIL developers options for easy integration.
Key features include:
CRM
Order management
Batch processing and supplier ordering
Payment management
2. NetSuite
Price: Varies, at it offers build-your-own package options; but their rough base-license costs are around $999 per month with access costs of $99 per user, per month.
Best for: Any sized, fast-growing business that sells physical products
Platform: Cloud-based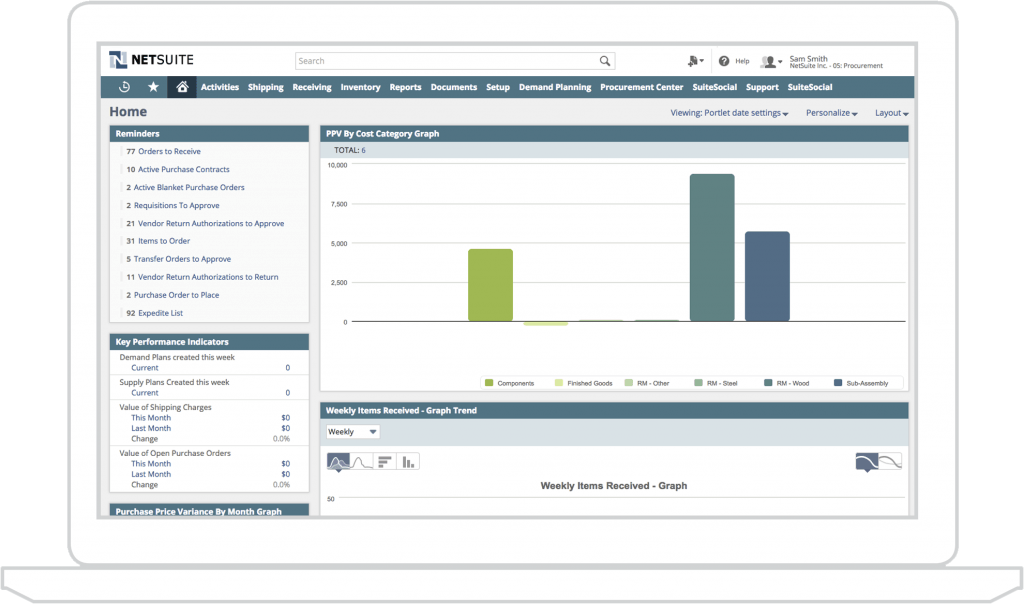 Netsuite offers a variety of comprehensive online financial, accounting and business management solutions. But if you're looking for a full solution, then their ERP package includes everything you need to run a successful commercial business including cloud financial management and warehouse and fulfillment warehousing.
Key features include:
In- and outbound logistics product management
Full accounting services
Billing
Financial planning and reporting
Supply chain management
Order management
3. ProfitBooks
Price: On request
Best for: Small, growing businesses
Platform: Cloud-based
Integrates with: Amazon, QuickBooks, WooCommerce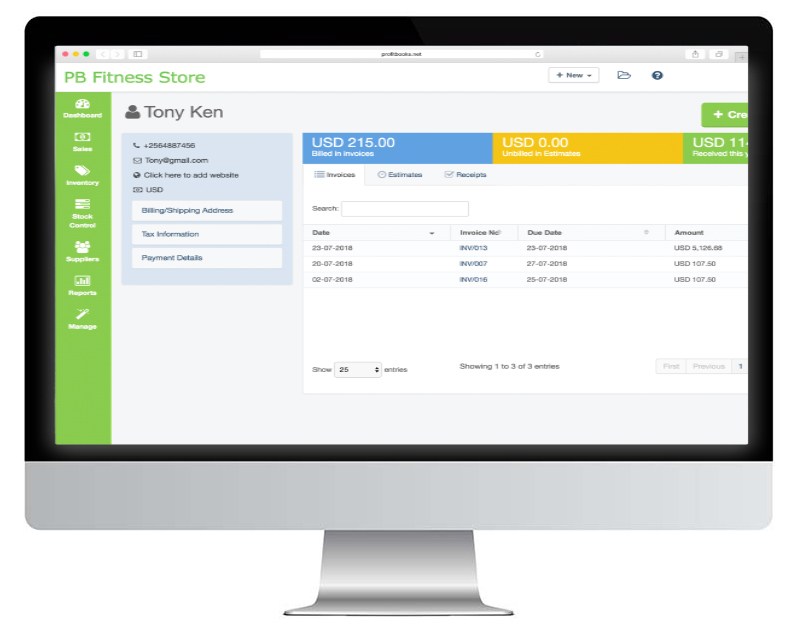 ProfitBooks works seamlessly with QuickBooks to offer you an all-in-one accounting and inventory management platform for your business. You can do anything from creating invoices to managing branch-level sales transactions, while you manage your stock, purchases and sales orders all from one convenient platform.
Key features include:
Purchase workflow simplification
Stock control and adjustments
Product batch maintenance
Multiple warehouse maintenance
Multiple currencies
4. QuickBooks
Price: Free 30-day trial then starts at $15 per month
Best for: Small to medium growing eCommerce businesses
Platform: Cloud-based
Integrates with: ProfitBooks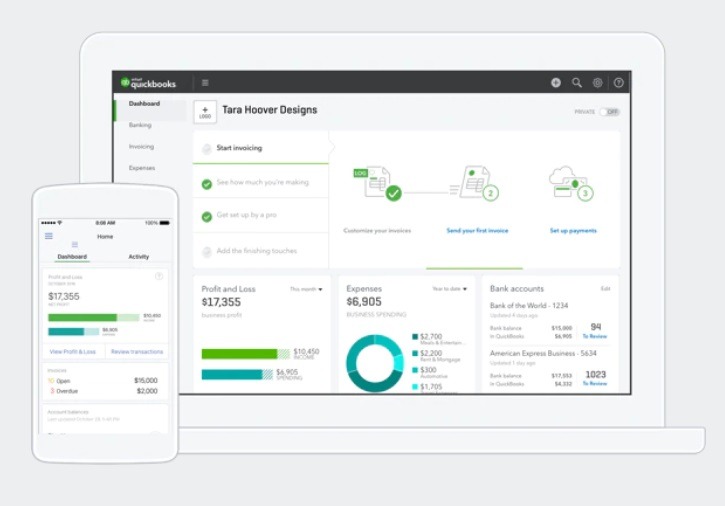 QuickBooks has a variety of solutions catering to any size business. It's their Plus Plan that offers you the most flexibility with its inventory tracking and advanced accounting options. However, if you are a complete accounting novice or won't have an accounting service provider, you could find their system a little hard at first.
Key features include:
Sales, expenses and profit tracking
Invoice creation and sending
Sales tax tracking and management
Bill payment and management
Inventory tracking
Profitability tracking
Budgeting, Profit Management and/or Admin Accounting Tools & Software
5. Apache OpenOffice
Price: Free
Best for: Budgeting and planning for small or new business owners
Platform: Windows, Linux, OS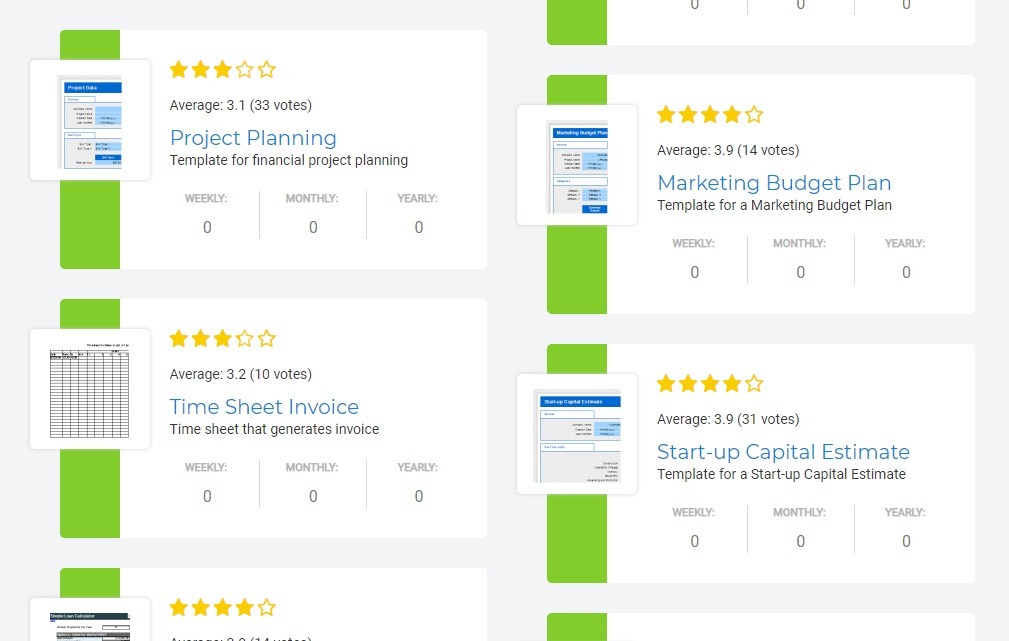 If you're looking for an alternative (free) software option to Microsoft Office, then Apache'sOpenOffice is an easy-to-use solution for your spreadsheet needs. Their library of templates has hundreds of small business templates from budgeting to project planning sheets. In short, OpenOffice offers a cheap, user-friendly alternative for planning your new budget across all areas of your business.
Key features include:
Budgeting sheet templates
Project planning
Timesheets
6. DeepMine
Price: 60-day trial and then from $10 per month
Best for: For small to medium Shopify store owners
Platform: Shopify app
The DeepMine Shopify app allows you to view accounting information (such as sales, tax, shipping, costs, etc.) in real-time from one dashboard. They are also busy beta testing a new feature that will enable you to set up and pay vendors and royalties. DeepMine gives eCommerce store owners access to vendor, SKU, order status and best-selling product reports while also enabling you to set up the cost for each product, automate email reports and remit partner percentages.
Key features include:
Order status (paid, authorized, pending, refunded, voided, abandoned)
Fulfillment status (unshipped, partial, shipped)
Cost of product setup
Automated email reports
7. Delirious Profit
Price: Free 7-day trial then $7 per month
Best for: Shopify store owners
Platform: Shopify app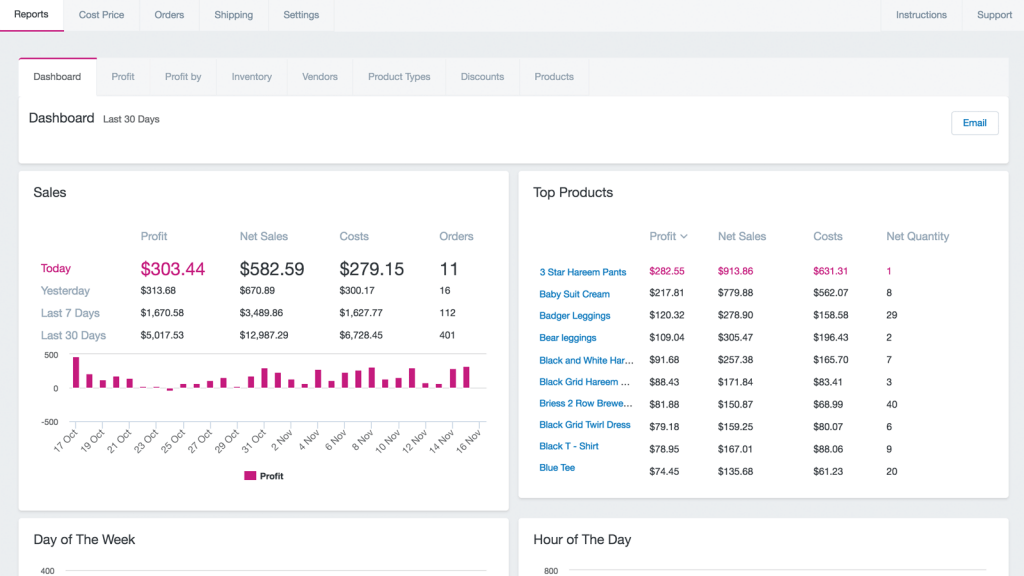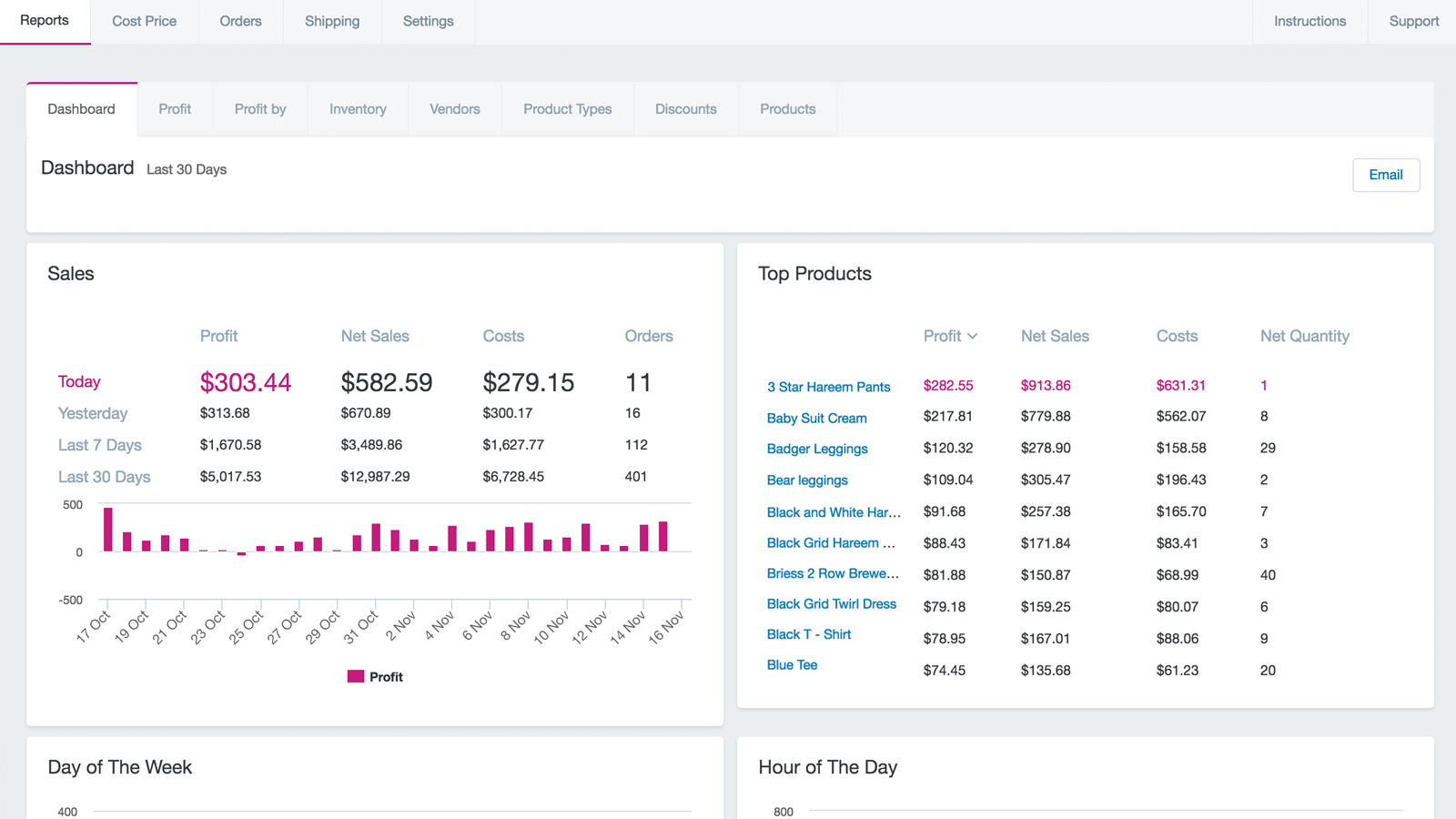 The Delirious Profit Shopify app enables you to quickly and efficiently calculate your profits and margins on Shopify. Giving Shopify users an overview of earnings over time, it allows you to add your cost price (COGS) to variants and is super easy to set up.
Key features include:
Top products
Inventory stock costs and profits per product, month, vendor, category and channel
Discount performance reports
8. Profiteer ‑ Cost of Goods Sold
Price: Free 3-day trial then $15 per month
Best for: Lean eCommerce store owners wanting a complete look at product costs
Platform: Shopify app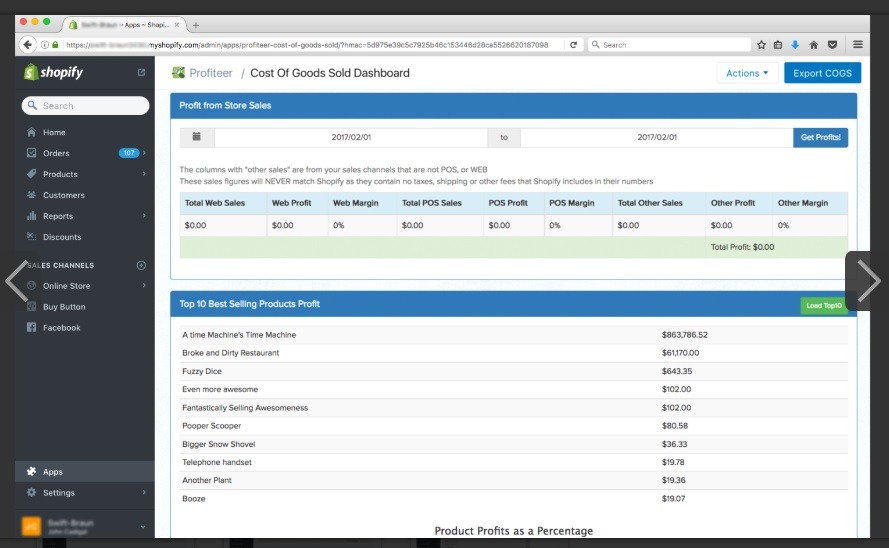 Profiteer is a handy Shopify app that will show you your real profits on total sales in real-time. In short, it records the cost price of each product as it's sold, having costs adjusted automatically as that currency fluctuates against the USD.
Key features include:
See the total value of your unsold inventory at any time
Changing cost and retail prices
Profits and margins report
9. SimplyCost
Price: Free 14-day trial then $4.99 per month
Best for: Small to medium Shopify store owners
Platform: Shopify app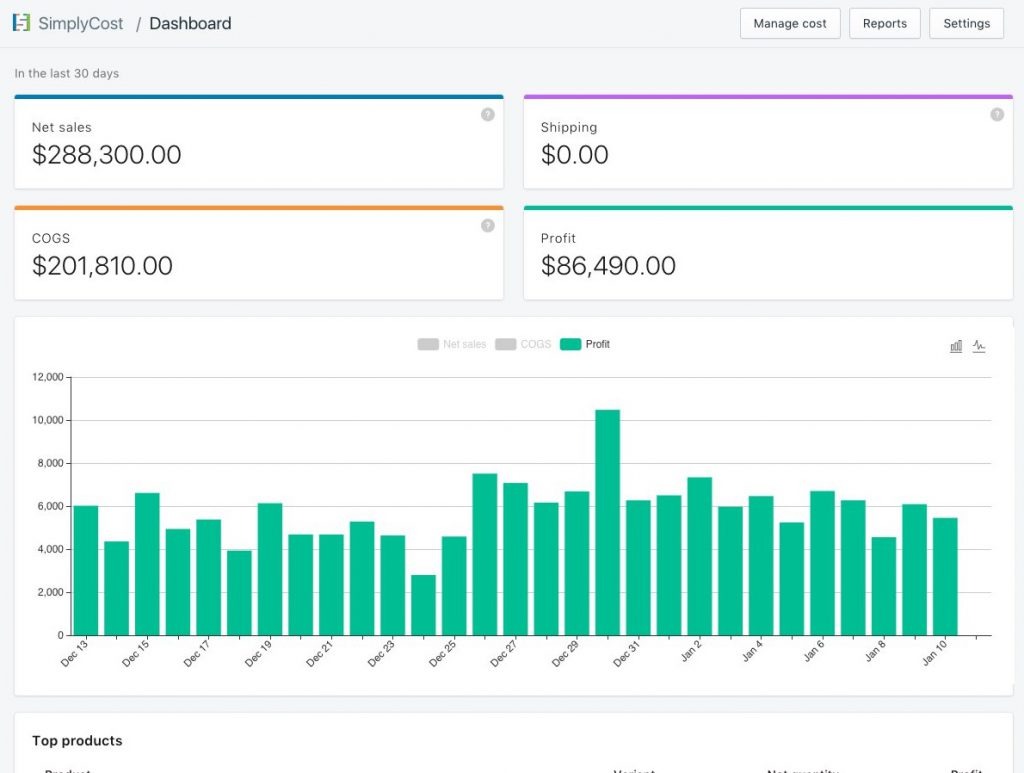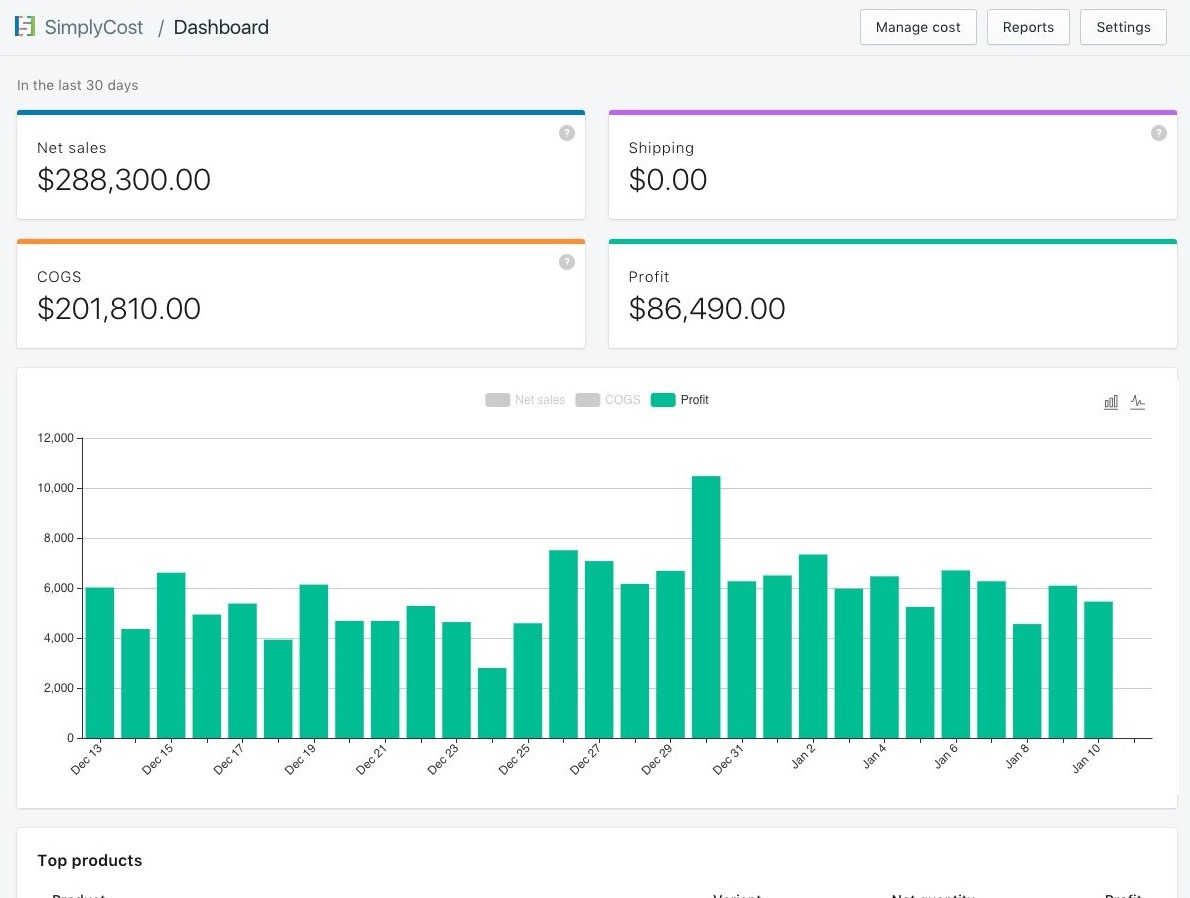 SimplyCost is a Shopify app that allows you to add COGS (cost of goods) to your Shopify store thereby enabling you to calculate profit in real-time. Taking into consideration any current discounts, refunds, shipping and taxes, it helps users automatically calculate and track their profitability.
Key features include:
A variety of profit reports by time, channel, location, SKU and more
Cost price bulk upload
Supports additional costs: shipping, handling, etc.
Export reports
Day-to-Day Business Management and Accounting Tools & Software
10. Adminsoft Accounts
Price: Free
Best for: UK-based business owners
Platform: Windows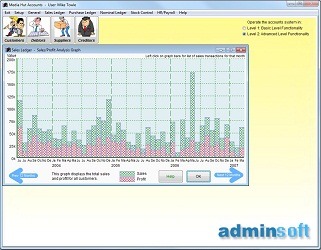 Adminsoft is a free, downloadable Windows accounting program that offers a complete money management toolkit. This program is particularly useful for business in the UK, as it will be MTD compliant for VAT as of April 2019. That's not to say that you can't use it if you're not in the UK since they include other currencies as well.
Key features include:
Invoice, statement and quote management and creation
Customer and supplier list creation and management
Supplier payments, control stock, and purchase order management
Profit, loss, budgeting, and cash flow tracking
Payroll management
To see the full list of all 44 accounting tools and software that the StoreYa blog covered, follow this link. Our only objection is that StoreYa did not mention one of the best tools on the market to help with your small business, and that is the PDF financial file converters from MoneyThumb. Your small business can quickly and seamlessly convert financial statements of every kind to help with your accounting and taxes, saving you time and money.